Tasting notes: Conundrum, White, 2016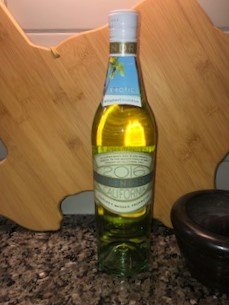 This wine is a lively sip of a "Spring Day in the garden enjoying a cool breeze" in your glass. Some wines just do that to my taste buds. Transport them to a time or place or feeling. Conundrum white makes you want to sit in your back yard and enjoy the warm Spring air during the time just before Summer arrives.
The weather is turning warmer and it makes my wine selections begin to turn to Roses, Whites and lighter bodied Reds. Time to let the jammy, spicy reds and heavy whites age for a bit in the rack.
The change in seasons makes me want to experiment more with my wines. I really enjoy blends in the Spring. They are exciting and always changing with the harvest. You never quite know what will be in the bottle.
The Wagner Family of Wine out of California produces Conundrum wines. Both white and red are blends.
The exact blend of Conundrum is the winemaker's secret, but it does include Chardonnay, Semillon, Muscat Canelli, Viognier, and Sauvignon Blanc.
Some wines you just drink and some beg for food. Conundrum White can play in both arenas equally well? Enjoy this on the back porch as an aperitif while you crack a few pistachios or roasted almonds. Keep pairings to foods that are light and vibrant with caramelized onion or citrus overtones. Think roasted chicken or fish dishes. Careful with heavy creams or cheeses as the high acidity of this wine can make those items mucky. This wine wants to play! Throw some hot Thai food or crazy curry at it and watch it dance!
Sniff. The nose is light and lends some white floral air. Think of yourself walking in a garden of honeysuckle and orange blossoms with a cool breeze. There is a hint of pear and apricot in the background.
Swirl. The light golden color tells you this is not a dense wine, but it does not give much away regarding the complexity of the flavors inside.
Sip. Yes there is Chardonnay, but this is no oaky stink bomb. The Chardonnay makes a quick greeting with some weight, chewiness and a waft of French oak, but quickly retires to the parlor. What carries your taste buds away is the white floral, barely ripe peach, just picked pear flavors that wink at some tropical fruit in a flirty non-committal fashion. The fruit slowly evaporates on the tails of the crisp acidity in the lengthy finish.
Clean, lively and bright. Flirt with this one and have some fun!
Highly recommend.