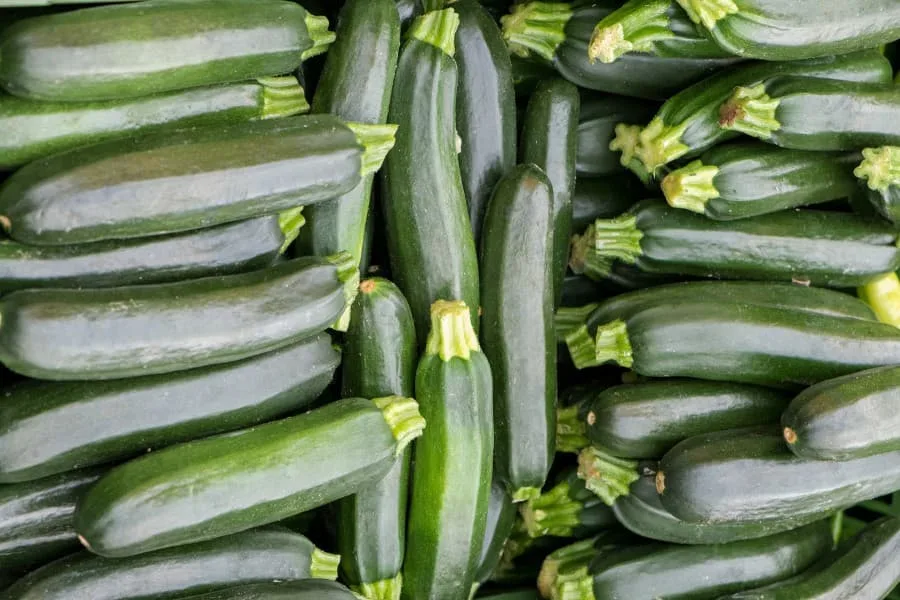 Grilled Zucchini | An Easy and Healthy Low Carb Keto Recipe
If you are looking for a zucchini recipe, low carb and keto friendly, you need to make this easy side dish of Grilled Zucchini with Cilantro Vinaigrette.
If this is your first time grilling zucchini, never fear. A printable recipe card is available at the bottom of the post.
Healthy zucchini recipes don't have to mean making zoodles or a boring low-carb side dish. This post will show you that low-carb zucchini recipes can be incredibly flavorful and easy.
If you need a keto side dish for a guest on the keto diet or are just interested in a healthy approach to cooking zucchini, read on.
This post may contain affiliate links for products LSG loves. Lone Star Gatherings earns a small commission on these links at no additional cost to you. Please read my DISCLOSURE POLICY for more info.
Healthy Low Carb Zucchini Side Dish Recipe for Cookouts
This is a great recipe for a cookout that takes just a little bit of time. It is a much more interesting alternative to the potato chip bowl. Use that for an appetizer with some melty cheese dip.
Grilling is my favorite way to cook zucchini in the warmer months. It keeps heat out of my kitchen but adds savory flavor to my meals.
A delicious way to cook this veggie is in a little hot oil on the stove when it is cooler. Sauteed zucchini with a little fresh garlic and a sprinkle of Parmesan cheese is always a hit. I also like to finish it with feta cheese.
However, grilled zucchini is a very healthy side dish and fits right into cookout menus.
You won't use zucchini rounds in this recipe as they can easily fall through the grill grates. You'll cut the zucchini into long spears which will hold up on the grill.
Your guests will really enjoy this delicious side dish of grilled zucchini topped with smokey vinaigrette.
Serve it with these Grilled Pork Shish Kabobs for a delicious meal all from the grill!
Add it to this Grilled Cauliflower Salad for a vegetarian cookout.
Check out other Lone Star Gatherings MENUS as well.
What is Zucchini?
Wikipedia classifies the zucchini, also called a courgette, as a summer squash. It is a herbaceous plant whose fruit are harvested when their immature seeds and rind are still soft and edible. Although zucchini is often considered a vegetable, it is botanically classified as a fruit.
The zucchini fruit comes in many shades of green. However, the golden zucchini is a deep yellow or orange. At maturity, they can grow to nearly 3 feet in length, but they are normally harvested at about 6–10 inches long which is considered a medium zucchini.
When cooking most treat this low carb vegetable as an accompaniment or side dish with savory flavor, though occasionally it is used in sweeter cooking like zucchini bread or muffins.
Zucchini can be cooked in many healthy ways just like this zucchini recipe which is low carb.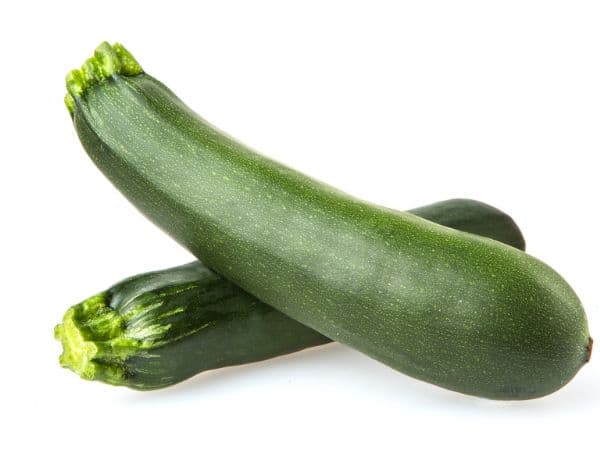 Zucchini Nutrition
According to Healthline, zucchini contains many nutrients and is a good addition to any low-carb diet. Additionally, including it in a healthy low calorie diet may have a variety of health benefits.
Zucchini has a high water content and is rich in fiber, two compounds that can promote healthy digestion. Consuming a lot of water and soluble fiber can really help reduce gut disorders.
Here is the nutritional information for a serving size of one cup or 223 grams of cooked zucchini:
Calories: 17
Protein: 1 gram
Fat: less than 1 gram
Carbs: 3 grams of carbs
Sugar: 1 gram
Fiber: 1 gram
Vitamin A: 40% of the Reference Daily Intake (RDI)
Manganese: 16% of the RDI
Vitamin C: 14% of the RDI
Potassium: 13% of the RDI
Magnesium: 10% of the RDI
Vitamin K: 9% of the RDI
Folate: 8% of the RDI
Copper: 8% of the RDI
Phosphorus: 7% of the RDI
Vitamin B6: 7% of the RDI
Thiamine: 5% of the RDI
The fiber, potassium, and carotenoids in zucchini may help lower blood pressure, cholesterol, and other risk factors for heart disease. Also, zucchini contains several antioxidants that may provide health with the highest amount in the fruit's skin.
So don't use a vegetable peeler when preparing your zucchini!
Ingredients for Low Carb Zucchini with Vinaigrette Recipe
This recipe is a great way to cook fresh zucchini. However, yellow squash could be a perfect substitute if you have them on hand.
4 Tbsp red wine vinegar
1 lime
3 tsp agave syrup
1 ½ tsp ground cumin
¼ cup + 1 Tbsp chopped fresh cilantro
1 tsp salt
½ tsp freshly ground black pepper
½ cup + 1 Tbsp good olive oil
4 Fresh zucchini, quartered lengthwise
How to Make this Low Carb Zucchini Recipe
The best way to begin this recipe is to first preheat your grill. While it is preheating you can make the vinaigrette.
This dish is great no matter what kind of grill you use.
Grill Prep
If you are using a charcoal grill here are your preparation steps for the best results.
Open the bottom vent completely.
Light ½ chimney starter full of charcoal briquettes. When coals are partially covered with ash, pour over the bottom of the grill.
Place cooking grate on top and cover. Open lid vent all the way.
Let grill heat up for 5 – 10 minutes.
For a gas grill, use the following instructions for preheating.
Turn all burners to high.
Close lid and heat about 15 minutes until hot.
When the grill is hot, clean and oil the cooking grate. You will use medium heat to medium-high heat depending on your grill to cook the zucchini. If you have more items on your grill, use medium-high heat. Be careful to watch your veggies closely as they can burn quickly.
Vinaigrette for the Low Carb Zucchini Recipe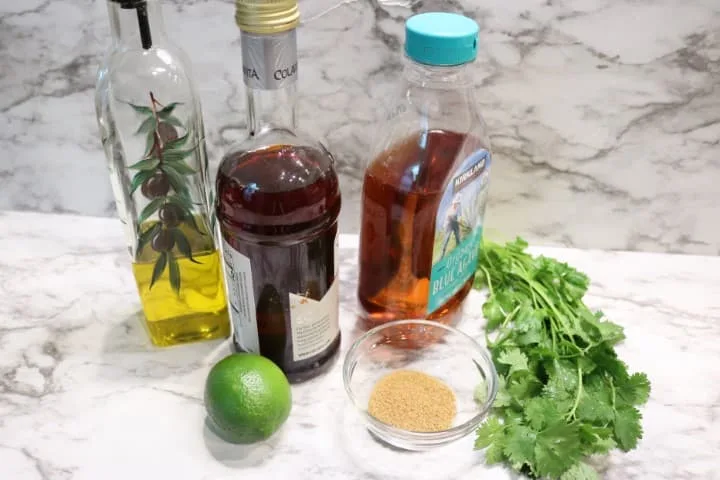 Add the following to a mini food processor:
Red wine vinegar
Juice of ½ lime or about 1 Tbsp + 1 tsp of juice, but you don't have to use these exact measurements. If you like a tangy vinaigrette, add more lime juice, but do it a little at a time.
Agave syrup
Ground cumin
¼ cup cilantro
½ tsp salt and ¼ tsp pepper
Process all of the above ingredients until well blended.
Then, with the processor running, stream in ½ cup of good olive oil and continue to blend until the ingredients are emulsified. Set aside the vinaigrette until ready to drizzle over your grilled zucchini.
In a mixing bowl toss the zucchini quarters with 1 Tbsp olive oil and sprinkle with ½ tsp salt and ¼ tsp pepper.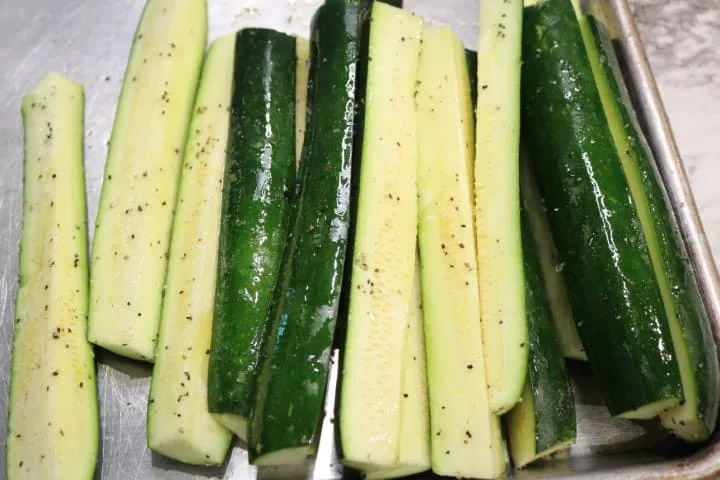 Grill over medium to medium high heat turning occasionally until golden brown with grate marks. About 2-3 minutes per side or 6 minutes total. This will give your zucchini slices a slightly crispy texture.
Remove from heat and cut in half crosswise. This will give you shorter spears of zucchini which is easier for serving.
Immediately drizzle the grilled zucchini with the cumin vinaigrette. Garnish with 1 Tbsp chopped cilantro or fresh parsley.
Serve warm or at room temperature.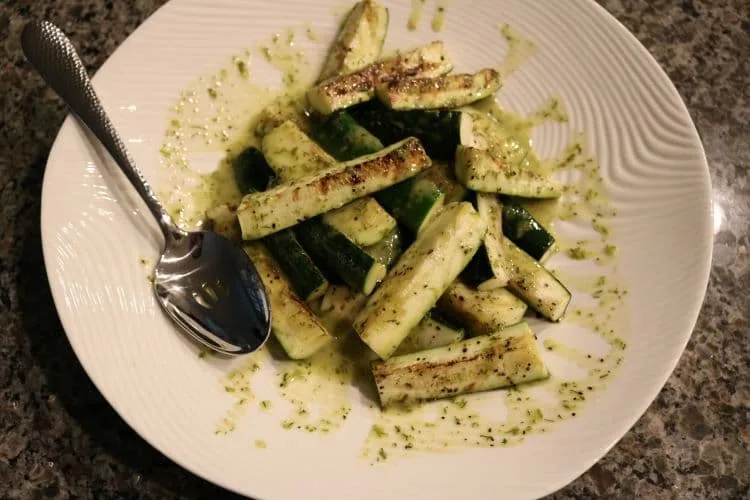 Keto Friendly Low Carb Recipes with Zucchini
You can find all sorts of keto zucchini recipes and low carb, delicious recipes for zucchini in many forms.
Use grated zucchini or shredded zucchini to make zucchini fritters. Add a little egg and flour and cook them in your air fryer. Then you can top them with sour cream and chives or dip them in a little Keto ranch dressing and serve as an appetizer or snack.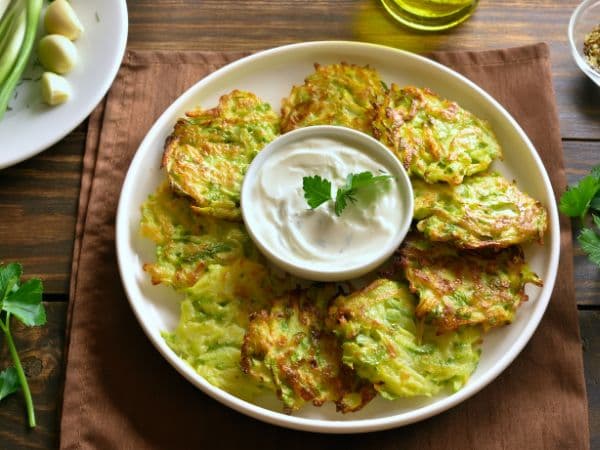 Another way to use zucchini is to make veggie french fries. For this Keto recipe, toss zucchini spears with egg, almond flour and some seasonings such as Italian seasoning and garlic powder for a crispy coating. Then spread the keto zucchini fries into a single layer on a sheet pan coated with cooking spray or lined with parchment paper. Bake for 25 minutes at 400 degrees F, and a great low carb side dish is ready for dinner.
A great vegetarian main dish is a zucchini gratin. You pan fry onions and add zucchini to cook a bit. Then you add some spices, salt, pepper, milk and coconut flour before putting it all into a casserole dish. You can add Gruyere or cheddar cheese to the mix before baking. It is delicious!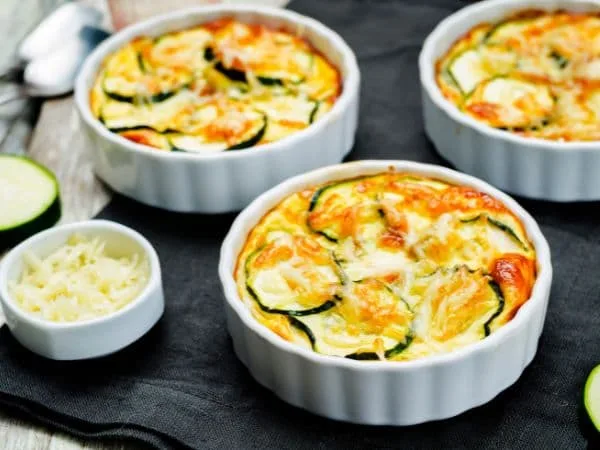 And the easy one is zucchini noodles or zoodles. These are great for adding more vegetables to any spaghetti pasta dish.
Invite Friends Over for a Cookout with this Low Carb Zucchini Recipe
This is one of my favorite recipes! I hope the next time you have a cookout you'll consider adding this dish to your lineup. It will satisfy the whole family and impress your guests.
Cheers Y'all!
P.S. Please share on your favorite social media site! And rate the recipe when you make it. Cheers!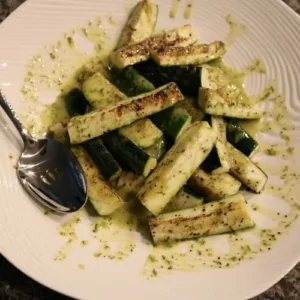 Grilled Zucchini with Cilantro Vinaigrette
This side dish of grilled zucchini is drizzled with a tangy vinaigrette with Southwest flare.
Ingredients
6

zucchini

quartered lengthwise

4

Tbsp

red wine vinegar

1 ½

Tbsp

fresh lime juice

3

tsp

agave syrup

1 ½

tsp

ground cumin

¼

cup

plus 1 tsp cilantro

chopped and divided

½

tsp

kosher salt

¼

tsp

pepper

½

cup

plus 1 Tbsp extra virgin olive oil

divided
Instructions
Heat your grill to high. One half-full chimney of charcoal.

Combine the vinegar, lime juice, agave syrup, cumin, cilantro and salt and pepper in a mini food processor or blender. Blend until smooth. With the motor running, slowly add the ½ cup olive oil and blend until emulsified.

Brush the zucchini slices with 1 Tbsp EVOO and season with salt and pepper to taste.

Clean your grill grates. Grill zucchini over medium-high heat turning occasionally, until light golden brown with a little char on all sides. About six minutes.

Remove from grill and cut in half crosswise. Place on a platter and drizzle with the vinaigrette while warm. Garnish with 1 tsp chopped cilantro.
Notes
You do not have to use all of the vinaigrette. Drizzle on what you like and reserve the rest for another use.