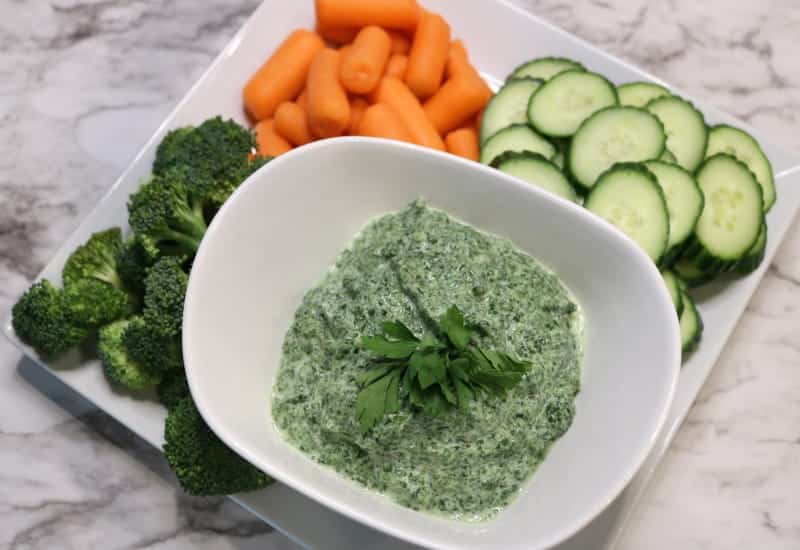 No-Cook Appetizers Keep Heat Out of the Kitchen
These no-cook appetizers and recipes are sure to please the crowd at your next cookout!
Ah, Labor Day! A holiday that should be celebrated with friends for many reasons.
I'm sure you all know when Labor Day is, but do you really know what it's all about? It's a day to celebrate the hard work of American laborers, but it's also a day to enjoy the fruits of their labors.
Additionally, if you'd like a little more historical background on why we celebrate Labor Day then read the post called Grill Out for Labor Day. It also has an additional menu for a great meal from the grill.
So, what better way to celebrate Labor Day than by cooking up some of your soon-to-be favorite Labor-Day-Cookout recipes? Invite some friends over and celebrate life! I've got some recipes for you that will have your taste buds celebrating in no time!
Happy Labor Day, everyone! Let's get chopping!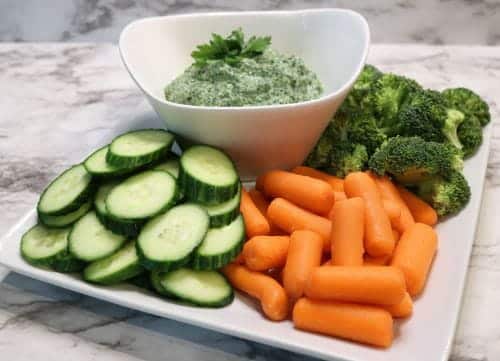 These Make-Ahead Appetizers are Easy
Sure, you can throw out a bag of chips and Ranch dressing for a dip, but since it is Labor Day, why not put a little labor into impressing your guests?
No one said anything about sweating over the stove for hours to prepare! There is no need to increase the heat in your kitchen to make impressive appetizers. Keep the heat outside on the grill and focus on keeping it cool inside with some light and refreshing appetizers that do not require you to cook.
We'll begin with some easy no-cook appetizers that you can make ahead to get the party started!
Looking for ideas to make your Labor Day cookout a breeze?
Here are some of our favorites:
1. Tangy Spinach Yogurt Dip
Here is a fantistic, flavorful dip that is perfect for busy hosts who want to enjoy the party without spending all day in the kitchen. Simply combine spinach, yogurt, and a few other simple ingredients, and you're good to go! See the recipe at the bottom of this post.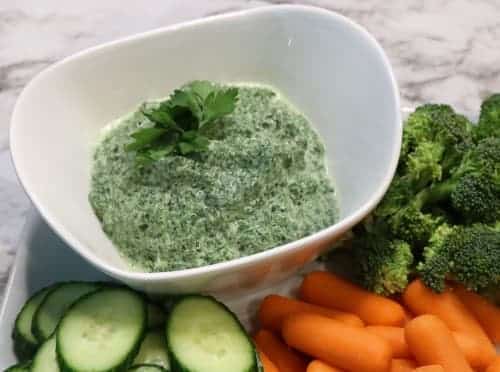 2. Caprese Skewers
Admittedly, these easy skewers are a great make-ahead option for outdoor parties. Simply thread cherry tomatoes, mozzarella balls, and fresh basil onto skewers, and drizzle with olive oil and balsamic vinegar before serving.
3. Homemade Hotstuff Salsa
As I have said before, this is the most delicious and easiest homemade salsa recipe you'll ever make. This Hot Stuff Salsa is bright, fresh, and very fast to make. Also, you can serve it as a condiment with any meal.
You might be asking why you should make salsa when there are about 10,342 kinds on the shelves of grocery stores all across the nation. Not to mention those you can pick up at your local farmer's market!
Without a doubt, homemade salsa is always the best! You control the ingredients, the salt, and the heat. This won't take 10 minutes once you get the groceries home. If there is any left over from your cookout, you can use this salsa on breakfast tacos, taco salad, grilled chicken, or fish to add some easy zip to your meal.
4. Antipasto Platter
Another great no-cook option for outdoor parties is an antipasto platter. Simply arrange a variety of Italian meats, cheeses, olives, and other finger foods on a platter, and let your guests help themselves.
5. Fruit and Veggie Trays
However you arrange it, a fruit and veggie tray is a no-cook appetizer that's perfect for any party. Choose a variety of fresh fruits and vegetables, cut them into bite-sized pieces, and arrange them on a platter. Add a cool creamy dip or sauce on the side for dipping, if desired. A mixture of vanilla yogurt and honey is nice for a fruit dip. Use the recipe below for your veggies.
What Ingredients are in the Tangy Spinach Yogurt Dip?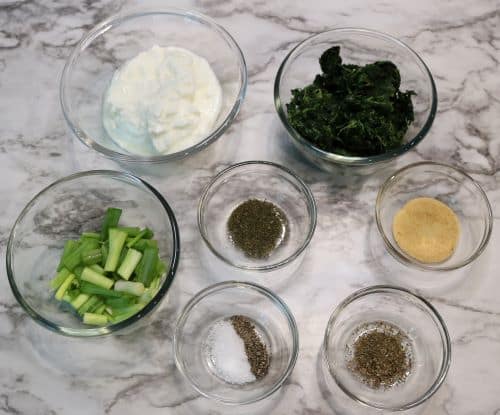 All of these ingredients are easy to find.
1 ½ cups fat-free plain yogurt
1 package (12 ounces) frozen spinach
1 clove garlic or 1 tsp granulated garlic
½ cup scallions
1/3 cup fresh basil or dill, coarsely chopped or 2 tsp dried basil
½ tsp salt, or to taste
1/8 tsp freshly ground black pepper
One – Two pinches cayenne pepper (optional)
How do you make this no-cook appetizer recipe?
Basically, place all ingredients in the bowl of a food processor and process until well blended, but not completely smooth. Then, transfer to a serving bowl and cover. Chill 30 minutes to 1 hour to allow the flavors to blend.
Super EASY!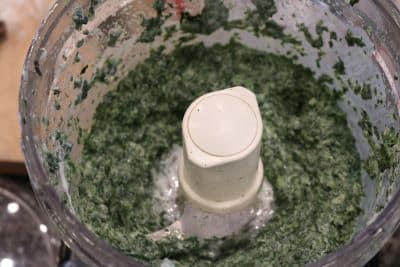 Yes, Spinach is Good for You so Include it in No-Cook Appetizers!
According to PharmEasy spinach is called a "superfood". Spinach is linked to numerous health benefits that improve your eyesight, cancer prevention, and regulate blood sugar. Obviously, this leafy green is considered a superfood.
This No-Cook Appetizer has Health Benefits
Let me introduce you to five amazing health benefits of spinach according to health experts as posted on the PharmEasy website.
Spinach Helps Prevents Cancer. Spinach has a high source of zeaxanthin and carotenoids that can flush out the free radicals from your body. These free radicals make your body prone to many diseases including cancer and as a result, spinach is said to help prevent cancer.
Contains Anti-inflammatory Properties. Additionally, this superfood contains neoxanthin and violaxanthin, which are two anti-inflammatory properties that regulate inflammation. Anti-inflammatory properties can help you prevent osteoporosis, migraine, asthma, arthritis, and headaches.
Aids in Good Bone Health. Moreover, spinach contains vitamin K which aids in good bone health as it improves the calcium absorption by your body to help your bones and teeth.
Aids in Weight Loss. The high fiber content in spinach leaves can aid in weight loss and are also low in calories. Fiber can also help good digestion, regulate low blood sugar, and prevent constipation.
Spinach Boosts Your Immunity. Vitamin A content found in spinach is said to strengthen the entry points in the human body such as respiratory, intestinal tracts and mucus membranes. With Covid lurking, this is a great defensive tool in your toolbelt.
Undoubtedly Spinach is Healthy!
Did you know, according to Healthline, spinach is an excellent source of many vitamins and minerals to aid your healthy bottom line. So why not make a no-cook appetizer recipe to enjoy it?
Some vitamins and minerals in this dark, leafy green superfood are:
Vitamin A, C, and K1. Spinach is high in carotenoids, which your body can turn into vitamin A. Vitamin C is a powerful antioxidant that promotes good skin health and immune function. Vitamin K1 is essential for blood clotting. Notably, one spinach leaf contains over half of your daily needs.
Spinach also contains folic acid for normal cellular function and tissue growth. Iron helps create hemoglobin to bring oxygen to your body's tissues. And calcium is essential for bone health and a crucial signaling molecule for your nervous system, heart, and muscles.
In a word, you should make this superfood dip for your health as much as your tastebuds!
Easy No-Cook Appetizers
One of the best things about no-cook appetizers is that you don't have to heat up the kitchen. This summer's heat is beyond miserable and it seems like the entire US is on a heat stroke high. So, let's not add to it by heating up your kitchen. Cook your Labor Day meal on the grill and incorporate no-cook appetizers. The way things have been going it will be another hot day.
Also, if you're short on time, these are the perfect solution. Simply prep the ingredients ahead of time, and you're good to go! All you have to do is arrange your veggies and place the pita chips in a serving bowl. Easy peasy!
Indeed, no-cook appetizers are ideal for busy hosts who want to enjoy the party without spending all day in the kitchen. A little prep time in advance of your party and you can be all smiles and relaxed when your company arrives. Finally, you too will be able to sit back, relax, and enjoy the holiday weekend with these no-cook appetizers!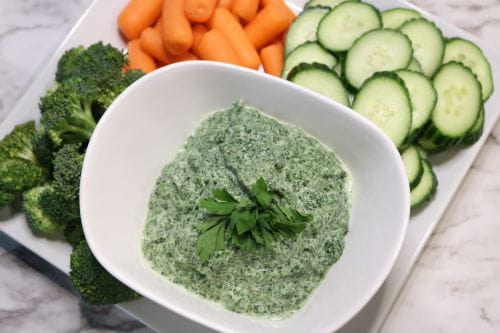 Invite Friends Over for a Cookout!
Labor Day is just around the corner, and that means one more thing – party time! Certainly, you're looking for a no-cook appetizer that will please a crowd! So look no further than this Tangy Spinach Yogurt Dip. It's easy to make and perfect for outdoor parties where you don't want to heat up the kitchen. So, invite your friends over, relax, and enjoy the holiday weekend!
Cheers Y'all!
P.S. Sharing is Caring! Go ahead and share a link to this post on your favorite social media. If you make it send me a picture and rate the recipe. Thanks!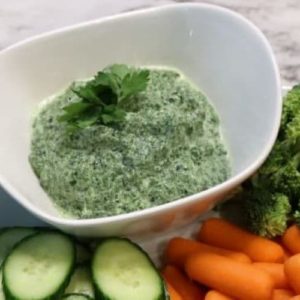 Tangy Spinach Yogurt Dip
This dip is tangy and creamy and makes a delicious, low-calorie, refreshing appetizer. Serve with crudités or pita chips.
Ingredients
1 ½

cups

fat-free plain yogurt

1

package (12 ounces) frozen spinach

1

clove

garlic

minced

½

cup

scallions

coarsely chopped

1/3

cup

fresh basil or dill

coarsely chopped

½

tsp

salt

or to taste

1/8

tsp

freshly ground black pepper

1-2

pinches

cayenne pepper

or to taste
Instructions
Thaw spinach in refrigerator overnight. Place thawed spinach in a lint free tea towel and wring out as much liquid as possible.

Place all ingredients in the bowl of a food processor breaking the spinach into chunks as you add it. Pulse until combined. Scrape down the edge of the bowl and process again about 30 seconds until well blended, but not completely smooth. Transfer to a serving bowl and cover. Chill 30 minutes to 1 hour to allow the flavors to blend.

Serve with sliced cucumber, crudités, or pita chips.
Shared With…