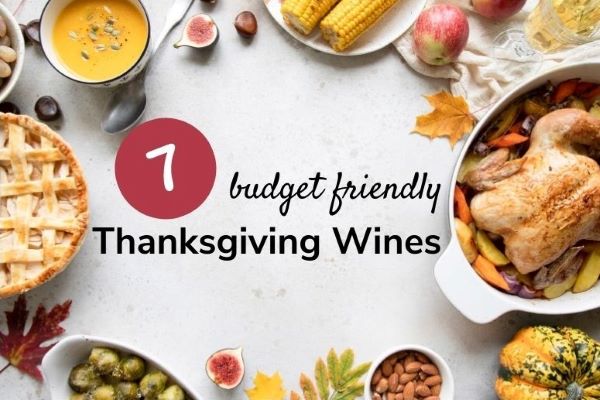 7 Best Budget-Friendly Wines You Need for Thanksgiving Dinner
Here are 7 of the best budget-friendly wines you need for your Thanksgiving table! Plus some exploration of how to pick a great wine for your special holiday.
If you are in search of budget-friendly American wines to grace your Thanksgiving table this year, you are in the right place. Wine belongs on your Thanksgiving table, but there is no reason to break the bank. We want to celebrate especially this time of year, so don't settle for the standard same old bottles. Why not try new festive and budget-friendly Thanksgiving wines for your feast of flavors?
Thanksgiving is my favorite holiday. Christmas is right next to it, but Thanksgiving has all the food and fun of gathering with friends and family without the pressure of buying gifts. The gift is the people sharing the beautiful meal.
If we could just hold on to that, Thanksgiving would be a simple pleasure.
Even though I don't change up the entire Thanksgiving menu every year, I do add a new recipe or two and update some old dishes.
But I always indulge in new wine options. And since I entertain a crowd every year, I also shop for affordable wine.
HOW TO PAIR THANKSGIVING WINES
A Good Wine is Not Necessarily Expensive or Hard to Find
I research and taste special wines for my Thanksgiving table every year. Excitement builds when I read about "the perfect Thanksgiving wine" for my holiday table, but quickly turns to frustration when I can't get that wine locally. Equally frustrating is when the wine had such limited production that the sommeliers tasting it were the only ones who could purchase it. When such things occur, it feels like a bait and switch.
Sometimes the recommended wine is crazy expensive to serve for a crowd. Don't get me wrong. There are great wines out there with impressive price tags I'd love to share! But Thanksgiving isn't about trying to impress guests as much as make them feel welcome. And I need to do that within my budget.
There are as many opinions on the perfect wine for Thanksgiving dinner as there are wine drinkers, so the bottom line up front is to drink what you like. It is true that fuller-bodied wines like Cabernet Sauvignon and Chardonnay are standard crowd-pleasers and you can serve them for Thanksgiving. But I save those bold and typically oaky wines for the roasted red meats of December's holidays. Hey, if you love them and they suit your personal preference, then, by all means, serve them.
However, if you give the budget-friendly wines in this list a try, you'll find they are fantastic options for your Thanksgiving table.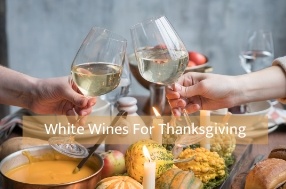 Drink Young Wines with Your Traditional Thanksgiving Meal
Thanksgiving day is not the time to drag out that old mellow, best wine from your cellar. The amazing fruit of younger wines, like a Beaujolais nouveau, goes better with turkey, cranberry sauce, sweet potatoes, or a yam casserole. It is also typically less expensive, which is good when you are hosting a large gathering of friends and family members.
There is lots of good chatter about the 2017 and 2018 vintages. Even 2020 is shaping up to be a banner year for many winemakers especially those in California and New York.
So, don't be afraid of younger wines to pick up and pour on this special occasion.
Drink Blanket Wines
Rather than trying to match wines to individual flavors or dishes, we'll explore finding a single wine or a "blanket wine" that complements a wide variety of foods. We are trying to simplify wine pairings by choosing wines that are a good match for turkey, your aunt's favorite green bean casserole, and all the side dishes of the entire feast that grace your table.
In order to find a good blanket wine, first focus on the style of the wine.
For Thanksgiving dinner foods, acidic wines are your friend. It doesn't really matter if you choose red or white wine for your Thanksgiving meal. Honestly, they both pair great with it. This is really not about the color of the wine, but the style.
How Much Do I Need?
For each wine I am serving, I factor ½ a bottle of wine per guest during the main meal. I then add one additional bottle for every four guests. The last thing you want is to kill conversation by running out of wine.
CHOOSING YOUR THANKSGIVING WINE
Red Wine for Thanksgiving
Some of the best red wines to pair with your main course include lighter to medium-bodied reds that avoid heavy oak or spice. You want the kind of food-friendly wines that have enough fruit and high acidity to complement many kinds of dishes and flavors without overpowering them.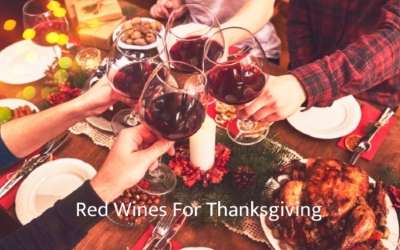 The most widely recognized traditional Thanksgiving red wine pairing is Pinot Noir. It is a popular choice that pairs well with both white and dark turkey meat. It enhances earthy flavors of savory herbs and it is acidic enough to pair well with most food on your holiday table.
A conversation starter pairing is Gamay. I like to think of it as the poor man's Pinot Noir. Gamay is very popular in France where it is bottled as Beaujolais. Doesn't it seem rather odd that French wine is the classic pairing for this all-American holiday? Despite it's origin, it is delicious with Thanksgiving foods.
Gamay became quite popular in America in the 1970s, but the challenge for American winemakers growing Gamay is to retain acidity and minerality in the wines while managing ripeness and alcohol. So, the domestic growth of Gamay is relatively small and in cooler climate areas such as the Pacific Northwest and the Finger Lakes region. But limited batches of wine are produced by these smaller wineries.
White Thanksgiving Wines
Hey white wine lovers, instead of Chardonnay, which is highly overrated as a semi-budget-friendly Thanksgiving wine, try a Pinot Gris or Pinot Grigio. Pinot Gris is the white cousin of Pinot Noir. It has a bit of heft to stand up to rich dishes but won't overpower subtle flavors. If you do get a Chardonnay, try to find an unoaked chardonnay that won't overpower your roast turkey.
One of the best white wines with good acidity for deep-fried turkey, spicy foods, and the cornucopia of flavors on your table is Sauvignon Blanc. It has great acidity and a flavor profile of citrus fruits and a little bit of spice that pairs beautifully with different flavors. It is also a good wine for lighter Thanksgiving salads.
Another great example of a best bet white wine to pair with Thanksgiving is a dry Riesling. It is a delicious wine with great acidity and really is a fantastic partner for the meal. Its bright acidity zips through all the rich foods, gravy, dark meat, stuffing, and rich spice of the cranberry sauce. It lightens the meal with a zippy appeal.
Sparkling for Your Thanksgiving Table
There are so many to choose from, but for Thanksgiving, I focus on American Sparkling as a matter of national pride. It pairs beautifully with a variety of dishes.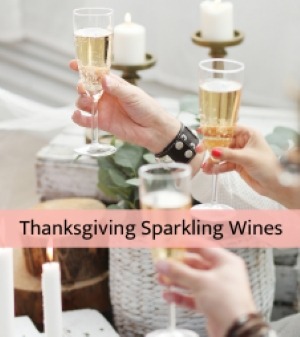 Most American sparkling wines are made primarily from Chardonnay and Pinot Noir which are the two most common, and recommended, wines to pair with the rich and earthy flavors of the Thanksgiving feast.
A Sparkling Rosé fills the bill for my holiday table. Rosé offers rich berry and citrus flavors along with body and elegance to match most food pairings.
The best part is there are plenty of bottles from different regions to enjoy in the less than $20 range. But you might want to steer clear of those super-cheap bottles which can be filled with underperforming or flabby grapes and are highly manipulated with additives and sugar.
Five bucks might sound good initially, but those uber-cheap wines are headache makers and taste bud killers. So "buyer beware" when there is a super cheap price.
SWEET WINES
I know I didn't touch on sweet wines or dessert wines as they are not personal favorites.
However, if you really want a sweet wine with your Thanksgiving meal, try a sweet sparkling wine. If it isn't too sweet you can serve it with your main meal.
Sparkling wines with a little sweetness also pair well with spicy dishes as does a Riesling wine.
Sweet wine can also be saved for your pumpkin pie or apple pie.
RECOMMENDED BUDGET-FRIENDLY THANKSGIVING WINES
Red
Estancia Pinot Noir, California. For a relatively inexpensive Pinot Noir, I grab a bottle of Estancia out of Monterey County California. I've been drinking the Estancia wines for 15 years and they are consistently good. This ruby-red wine has light floral notes of violet and lavender, with black cherry and plum fruit aromas. It expresses soft yet concentrated flavors of black cherry, plum, leather, and vanilla notes with a silky mouthfeel and toasty finish. A delight for $10 – $12 a bottle.
Georges Duboeuf Beaujolais-Villages, France. Ok, it's not American, but it is a prime example of a young, delicious, and inexpensive Gamay wine. It is one of my favorites for Thanksgiving. This is an effusively fruit-forward (not sweet) style wine. Dark cherry with purple note appearance hints at the red and black cherry, blackberry, and raspberry fruit. This wine has a lushness and the acidity to stand up to dark meat, stuffing, and sides. Serve slightly chilled. For $12 – $15, it is a repeat player at my table.
White
King Estate Pinot Gris, Willamette Valley, Oregon. Don't let the pale straw color fool you, as body and elegance lie within. You begin with aromas of freshly cut pear, ripe white peach, white floral notes, and crushed stone. The fruit-forward flavors play up peach, bright lime, citrus, and ripe pear and are balanced by fresh acidity. There is a lingering and lively elegance to the finish. Really lovely at $17 – 20.
Chateau Ste. Michelle Dry Riesling, Columbia Valley, Washington. This is my go-to wine for spicy hot Indian food. For those of y'all who think "sweet" when you hear Riesling, fear not. This is a dry, refreshing style of Riesling with beautiful fruit flavors, crisp acidity, and an elegant finish. It offers inviting sweet citrus, hints of lime, green apple, and white peach aromas and flavors. A deliciously versatile food wine for $7 – $9.
Sparkling Rosé (Not Sweet!)
Domaine Ste. Michelle Brut Rosé, Washington. A lovely gem out of Washington's oldest winery in Columbia Valley. Aromas of ripe strawberry with hints of apple and citrus flavors. This is a lively, dry bubbly with subtle spice and berry flavors followed by an elegantly soft and barely sweet finish. Pick it up for $10 – $14.
Sparkling Rosé Rappahannock Cellars, Virginia. If you are in Virginia, swing by Rappahannock Cellars and treat yourself to their Sparkling Rose. This wine is made in the traditional method, or "methode champenoise". Secondary fermentation in bottle and a minimum of 1 full year of aging in the bottle on its yeast lees which brings complexity to the wine and adds an aroma of pie crust. This delightful wine has aromas of strawberry, rhubarb and juicy red berry pie with flavors of citrus and tropical notes. Seriously yummy. At $34, start with this one and switch to a lower-priced sparkling Rosé with the meal.
Rose Sekt, Schloss Biebrich, Germany. Ok, not American again, but Sekt, sparkling from Germany, would be a great budget-friendly Thanksgiving wine for your feast. Check out my wine Tasting Notes on this $6 food-friendly find at Trader Joe's.
Keep your Wine Selection Simple
Don't overthink finding your budget-friendly Thanksgiving wines since I have done that for you! Honestly, you can drink whatever YOU WANT. There is no ONE answer here so feel free to drink what you like, what is new to your cellar, and what is in your glass.
However, if you try the budget-friendly Thanksgiving wines I've recommended here, you will be delighted and so will your wallet. We have had to navigate so many challenging things this year, let's make this one easy!
Enjoy your Thanksgiving with whoever is at your table and whatever delicious glass of the right wine you are using to toast!
Cheers Y'all!
SHARED WITH…